Debbi Bryson, Founder of the Bible Bus Stop, mother of one, former missionary to Russia and wife of Pastor George Bryson. You can learn more about Debbi here...
Debbi Bryson Bible Studies
Through the Book of Titus
Titus

Philippians
Philippians 1:1-11 Philippians 1:12-30
Romans: Relentless Grace | How the Gospel Changes Everything!
href="https://vimeo.com/459613166" target="_blank" rel="noopener">Intro to Romans
href="https://vimeo.com/466240629" target="_blank" rel="noopener">Romans 1:1-17 – The Man and His Message
Romans 7 – What the Law Can and Can't Do
Romans 8:1-17 – New Life in the Spirit
Romans 11 – The Root and Branches
Romans 13 – Citizens with Godly Influence
Romans 16 – Gospel Hands and Feet
Colossians
Colossians Welcome
Colossians 1:1-14
Colossians 2:6-15
Colossians 2:16-23
Be Series 2019
BE Filled with the Fullness of God – Fruit of Love
Sojourn: Live In The World, Not Of It
Q&A Panel – Debbi Bryson, Cathy Frazee, Jes Shepherd, Meagan Cottage & Holly Nelson
Be Series 2018
Be Hospitable
Be Joyful; Be Thankful
Be Strong and Brave
Be Still
Be Content
Be Perfect and Complete
Face to Face With Women of the Bible
Rebekah
Women Who Served
Mary Magdalene
Face to Face
Mary the Mother of Jesus
Hannah
The Widow of Zarephath
Mary and Martha
Building on the Foundation
Introduction to the Psalms
Psalm 27 | Fearless, Trust in God
Psalm 42 | Thirsting for God
Psalm 145
Starting Again
Acts 2
Acts 5
Acts 8
Acts 13
Acts 14
Acts 16
Acts 19&20
Acts23-26
Acts 28
Remember Who You Are in Christ
How Great is Our God: A Study through Isaiah
The Word of The LORD
Living Water
Our Refuge & Redeemer
Walk in the Word: A study through the book of Ephesians
Welcome to Ephesians!
Walk Worthy | Ephesians 4:1-16
Finally, Be Strong in the Lord | Ephesians 6:10-24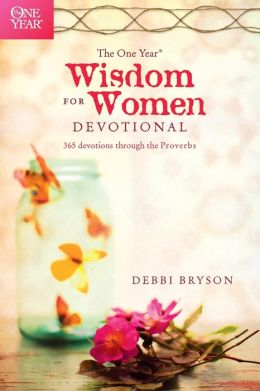 Buy Debbi's new book
"The One Year Wisdom for Women Devotional: 365 Devotions Through the Proverbs"
by
clicking here
.
Journey to the Heart of God
Fruits of the Spirit
Redeemed and Restored
His Plans for You are Good
Divine Mentors
Where Do You Go When Bad Things Happen?
The Power and Potential of Seeds
Philippians - Finding Joy in a Broken World
Welcome
Overview
Lesson 4
Lesson 7
Galatians
Introduction
Galatians 6
Adonai "Lord, Master"
Jehovah Rophe "The Lord Heals"
Jehovah Shammah "The Lord is There"
1st, 2nd & 3rd John
Abiding in Love | 1 John 2
Victorious Love | 1 John 5
Joshua
Introduction to Joshua
Passing the Baton
When God Pulls Rank
The Divine Developer
James
Testing Your Faith | James 1
Perfecting Your Faith | James 5
Hebrews "Look to Jesus"
Our Promised Rest | Hebrews 3:7-4:13
The Heroes of Our Faith | Hebrews 11:1-40
Mark "Journey with Jesus"
Ears to Hear | Mark 4:1-34
Tradition vs. Transformation | Mark 7:1-8:10
The Mountain of Glory | Mark 9:2-9:34
The Land Between | Mark 14:1-31
Gethsemane | Mark 14:32-52
Mastering Mark
The Secret of the Secret Place
The Character of God/The Holy Spirit
The Holy Spirit #1
The Holy Spirit #2
The Holy Spirit #3
The Holy Spirit #4
The Holy Spirit #5
Calvary Chapel Vista
Introduction to Galatians | Notes
Galatians 6 | Notes
Adonai "Lord, Master"
Jehovah Rophe "The Lord Heals"
Jehovah Shammah "The Lord is There"
Calvary Chapel Bible Fellowship Women's Conference
Magnificent Obsession
Session 1
Session 2a Session 2b
Session 4
Session 5

Calvary Chapel San Ramon Women's Conference
Psalm 23 - Session 1
Psalm 23 - Session 2
Psalm 23 - Session 3

Rocky Mountain Calvary Chapel Ladies Retreat: "Beholding Him"
Session 1
Session 2
Session 3
Session 4
Rocky Mountain Calvary Chapel Ladies Retreat: "This Little Light Of Mine"
Session 1
Session 2
Session 3
Session 4
Written Studies
Teach Us to Pray
Philippians
Gospel of John - Part 1
Gospel of John - Part 2